Introducing M4theM Hot Pursuit Chase Challenge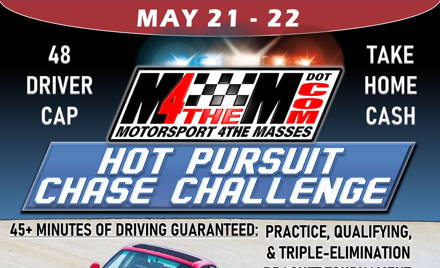 Motorsport 4the Masses
Saturday, May 21 — Sunday, May 22, 2022
Rockingham Speedway
,
Rockingham

,

NC
Registration closed May 21, 2022 5:59 PM at 2022-05-21T14:59:00-0700 Registration ends May 21, 2022 5:59 PM at 2022-05-21T14:59:00-0700 Registration opens March 31, 2022 12:00 AM at 2022-03-30T21:00:00-0700 Registration runs from March 31, 2022 12:00 AM to May 21, 2022 5:59 PM
Welcome to M4theM's first-ever SCDE/HPCC weekend!
Short Course Driver Education will be on Saturday, May 21st.
Hot Pursuit Chase Challenge is our new Driver-Skill Competition held on Sunday - ANYONE CAN WIN IN ANY CAR.
Sunday, May 22nd, will mark its debut. HPCC will bring the exciting cat-and-mouse action of Japanese Touge mountain racing to the safety of a closed course!
If 32 or more cars register, HPCC will also feature CA$H Prizes! DETAILS BELOW:

The weekend will feature our SCDE program on Saturday the 21st and our new HPCC competition on Sunday the 22nd.
What is SCDE?
SCDE is a bridge event between Autocross and HPDE and is a prerequisite for competing in our HPCC competitions. With over 40-80 minutes of driving in the day, SCDE approaches a track day's worth of seat time at a price point and overall risk closer to autocross:
Unlike the linear Point A to Point B cone course of autocross, SCDE is a circuit that is slightly larger and faster than an autocross course. SCDE gives plenty of time for drivers to develop car control and opportunities to develop track etiquette. Best of all, we don't make you work out on the course. Our volunteers crew the corner stations so that you can arrive and drive!
SCDE scales down the road course to a more manageable speed and difficulty. Drivers will circle our miniature road course for 10 minutes at a time. The course is still fun, technical, and intense! Easy to learn, challenging to master for all drivers! Plus, you won't have to worry about hitting walls. Courses are marked with lines and soft barriers.
You will share the track with others. But no worry, our driving instructors will coach you on situational awareness and point-by-passing for no extra charge. You will encounter longer straightaways than on any autocross course. Almost all cars will reach 3rd gear and exceed maximum interstate speeds, but very few will reach triple digits. You will learn how to manage braking zones and how a car changes throughout an HPDE session without worrying about running into a wall.
TYPICAL Schedule (Sections below will detail event specifics. An EMAIL will be sent week-of as a reminder):
SCDE events are broken up into 2 sessions. Either session will provide you with up to 40 minutes of run time*
Morning - 7:15 AM to 11:30 AM
Afternoon -12 PM to 3:40 PM
Each participant will drive in 4 individual 10-minute continuous lapping sessions—no point to point and stop like autocross. Keep turning laps like a track day.

Registration and Tech will open at 7 AM and again at 12 pm for the afternoon session. The driver's meeting will be at 8:00 and 12:30, respectively.

Participating in this event and receiving solo status will secure eligibility for the HPCC competition.
May 21-22 SCDE/HPCC Weekend Specifics:
Saturday Will feature two sessions of our 1/2 day SCDE program open to drivers of all abilities. If you are approved to drive solo before day's end on Saturday, you are eligible to participate in all HPCC competitions in the future. Saturday afternoon SCDE session is primarily for HPCC drivers to practice. Still, as long as space remains, anyone is allowed to register for the afternoon SCDE even if not competing Sunday.

We must keep practice spots open for Sunday Competitors, so our traditional all-day SCDE passes will not be available at this event.
After Saturday's SCDE has ended, we will feature a test competition for procedure and scoring using the staff as participants. We urge you to stick around if you are running Sunday's competition to become familiar with the procedures.

Sunday, May 22nd, will be our first-ever HPCC. Consistent car performance and driving matter more the pure speed. There is no "build" to aspire to run what you enjoy. Money will not beat you here. Driver skill is king!

The participant gate for Sunday's HPCC will open at 7:00 AM. Drivers Meeting is scheduled for 8 AM. Saturday Tech carries over to Sunday. Only Sunday only drivers need to tech.
How does HPCC work?
An HPCC Day begins with SCDE-style practice.
Qualifying Rounds will follow. Like bracket drag racing, you will qualify with a "dial-in."
The main event will be a Tournament, either Round Robin followed by an elimination tournament or a three-run guarantee, or a triple-Elimination Tournament participation numbers will dictate the type of tournament format used and are explained in the HPCC Rules supplement document found on the M4theM website.:

Drivers will race in the same direction, from separate start/finish lines spaced 150' to 200' apart.
Each "Run" is two laps. At the end of the run, the first car back to its starting line wins the round.

Cars will be positioned on separate starting lines based on their dial-ins:

If competitors' qualifying times are more than .03 seconds apart, the slower car will start in front, and a dial-in delay for the faster car will be used.
If the qualifying times are less than 0.3 seconds apart, runs will be heads up (release simultaneously). The faster car will choose lead or chase.

The start will be staggered by the qualifying time dial-in difference.
Breakouts will result in penalties described within the complete rule book available on our website.

A three-run guaranteed tournament format means there will be a guarantee of 3 runs minimum per car in the tournament. You could win your first round but lose your next two and be eliminated. Triple elimination is slightly different in that you are in the tournament until you have lost three times. Depending on the turnout, there will be up to 4 tournament brackets that will reduce the field to 16 cars. Once we are through the separate brackets, we will restack and do a final "Round of 16" tournament to decide the top finishers.
Provided we have a minimum of 32 cars registered, there will be a random draw, "Dash 4the Cash" as part of the cash prizes. This will be a consolation, single-elimination, 8-car tournament eligible to those that do not make the Round of 16. Eight random cars will be drawn to participate in the dash, and it will take place before the final drivers remaining from the round of 16 compete for the championship.

We MUST have 32 cars to do the cash prizes portion of the competition. There is space for a maximum of 48 cars. 32 cars must be registered by May 15, or there will be no cash prizes, only trophies.

Cash Prizes will be awarded to the Top 10 finishing cars, as well as the Top 3 Dash 4the Cash based on the following chart. T indicates a trophy as well.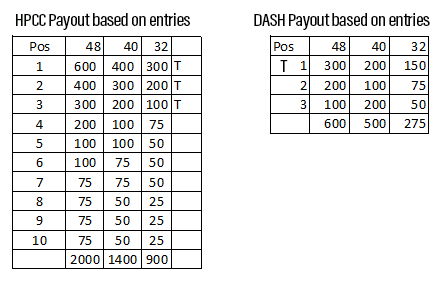 A complete rule book is being finalized. We will post the rule book on M4theM.com as soon as it is finished, and anyone registered will receive an email when it is complete or any additions/revisions are made. We are working on incentives and potential contingency gifts for participants. While we can not promise we will have any success with those extras, at the minimum, the cash and trophies are guaranteed per the above charts.
Prices are as follows (CHOOSE ONE OPTION):
Sat AM SCDE Only - $120 (open to Novices and returning SOLO participants, choose this if you only want to run Saturday Morning SCDE without competing Sunday).
Sat PM SCDE Only - $130 (as of May 5, this is now open to Novices and returning SOLO participants, choose this if you only want to run Saturday Afternoon SCDE without competing Sunday)
Sunday HPCC Only - $250 (No Saturday session, Previously solo approved SCDE drivers and drivers with solo HPDE status with other track day type organizations.)
Sat AM SCDE Plus Sunday HPCC - $310 (as of May 5, this is now open to Novices and returning SOLO participants as a practice session for Sunday.)
Sat PM SCDE Plus Sunday HPCC - $330 (as of May 5, this is now open to Novices and returning SOLO participants as a practice session for Sunday.)
* Track time may be affected by event schedule, mechanical issues on track, or weather. Track time is not guaranteed but we will do all we can to ensure everybody gets the amount they pay for.