Dress Rehearsal on the Mountain SCS Test Event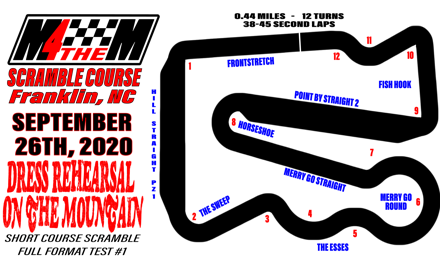 Motorsport 4the Masses
Saturday, September 26, 2020
J Sutton Pub Safety Ctr. (SCDE)
,
Franklin

,

NC
Registration closed September 25, 2020 9:59 PM on September 25, 2020 9:59 PM EDT Registration ends September 25, 2020 9:59 PM on September 25, 2020 9:59 PM EDT Registration opens August 28, 2020 12:00 AM on August 28, 2020 12:00 AM EDT Registration runs from August 28, 2020 12:00 AM to September 25, 2020 9:59 PM
M4theM would like to invite everyone that might, to join us in Franklin, NC Saturday September 26th for our first full scale test of our proposed Short Course Scramble (SCS) competition. 

*Yet another update* 9-17-2020

From what we learned in Darlington, we will be able to accept a handful of limited experience drivers at this event after all, as long as they meet the following minimum criteria. 

If you have significant driving experience where car control is a must, (mountain twisties etc.) you may request a phone interview to see if you are eligible.  What we can not have is absolute novices that have never driven their car in a performance manner.  We love those folks at our SCDE events as that is the entry point but for this test event, we do need folks that at least have car control experience beyond daily driving. 

So, if you are a canyon carver that drives the twistys in the mountains, you know how to stay in your lane, and people aren't stacking up behind you because you are going under the speed the yellow curve ahead signs suggest, give us a shout and lets talk, you are probably ready for this.

Also, if you know a staff member or participant that can vouch for your ability, that works fine too, just let us know who that is and we will check with them.

*UPDATE* We have decided to limit the number of entries for our test to 32, this will allow us to do procedural training with people that have never attended an M4theM event.  The only requirement now is that you have a reasonable amount of performance driving experience, Autocross now counts towards this. 

If you have participated in a M4theM SCDE OR have verified Track Day, HPDE or wheel to wheel racing experience, or have enough autocross experience to have good car control, you are eligible for this competition. 

Persons with no DE or W2W experience but a reasonable amount of Autocross experience will be able to participate in procedural sessions to assure an understanding of the procedures of an SCDE. 

However, for this event, we cannot accommodate complete novices that have never driven other than on the street.  If you have a question of your experience, please contact us so we can verify your suitability.

We will have to have a minimum of 24 participants signed up Sept. 21, the Monday before the event in order to proceed with the test.  If we have not reached that level, we will have to postpone to another event weekend.

All SCDE standard safety and on course rules will apply to this event.

You need a helmet DOT or SNELL, in good repair.  (year of SNELL series does not matter as long as it is in good repair)

You need a car without rollover potential, no 4X4, SUV, Minivans or Carolina Squat mobiles.

All cars must have serviceable tires and be free of loose parts without any significant leaks.  Each driver is responsible to complete the tech sheet assuring all areas are in compliance.  It does not have to be completed by a race shop if the car owner/driver is qualified to do the inspection themselves.

This is an all-day event.  Each Participant will receive 50 minutes to an hour (possibly more) of track time and will be offered 4 unique competition formats to participate in.  Practice sessions start the day to sort and assign run groups followed by "precision driving" (basically timed SCDE) sessions, one "hotlap" session and finally,  sessions of head to head "knockout" competition.

We are completing the final proposed rules and will provide them prior to the event but this event is designed to test our proposed rules before we start with official competitions.

Here is your chance to get in on the ground level of our competitions and have you voice herd in forming rules that truly provide the level playing field we desire that will reward the best driver, not greatly favor the person that has spent the most on their car.

Anyone in any car can win, you just have to be a good driver that can run steady laps at whatever is a fast lap in your car, not what it takes to be as fast someone else's car.

For awards, if the timing works reliably along with the format, we will award discounted SCDE track time with M4theM.  If all goes well, future official events should also feature some contingency awards for participants and possible cash prizes as sponsors become more involved.

Normally we cap SCDE events at 64 to 80 drivers (depending on the track size and laptime), however that is split between morning and afternoon. 
Everyone is a full day driver at SCS and that only allows for 48 drivers in order to accommodate the extra drive time and format.
Therefore, the SCS competitions will be more expensive.

The planned (hoped) entry fee for SCS in 2020 will be $120 with an early bird of $110. (this is subject to change based on what we find in testing.)  We truly hope to keep it that low, we will see.

Since this particular event is a test, we are going to limit the entries to 32 and make this one available at a reduced rate without any Early Bird, just a flat $105.  That is only $10 more than an SCDE and you get more time plus the fun of competition.

Maybe next year we can find someone to fully sponsor the SCS events and we can get the price down a little lower.

So there it is, your chance to get on the ground floor of the formation of the SCS competition and do so at a reduced price.


Follow the links on our website for Hotel and Directions.