Atlantic Hoist and Crane 2400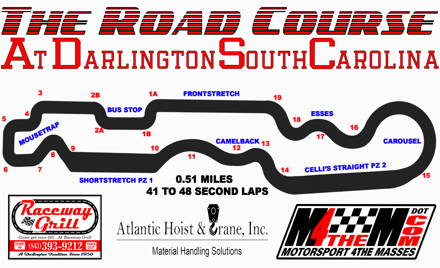 Motorsport 4the Masses
Saturday, June 26, 2021
Darlington SCDE Course
,
Darlington

,

SC
SCDE is a bridge event between Autocross and HPDE. You will learn all the procedures and rules of an HPDE or "Track Day" but do so on a racecourse that is slightly larger and faster than an autocross. You follow an actual mini road course and run multiple laps at a time with others on the track with you and you learn how to properly execute point-by passing.
Our SCDE events are broken up into 2 sessions; Morning from 7 AM to 12 PM and the Afternoon from 12 PM to 5 PM.

Registration and Tech will be open at 7 AM and again at 12 pm for the afternoon session. The driver's meeting will be at 7:45 and 12:45 respectively.

Either session will provide you with up to 40 minutes of run time. *

The all-day pass avails you up to 1 hour and 20 minutes of run time. *
Sign up early and save some $$$!

Choose an AM or PM session with the Early Bird special for only $115 until Sunday, June 6th.
After the 6th, the price rises to $125.

Glutton for forearm punishment? Sign up for the whole day (80 minutes of track time) for $220

Brand new for 2021. Karting!
We are introducing Karting this year. Slots will be limited but for $75 you will get 4 8 to 10-minute sessions. Early Bird special for only $65 until Sunday, June 6th.

Our host hotel is Howard Johnson Florence. After staying with them at our last couple of events they liked us and dropped our rate to $55 per night.
Do not book online or you will not get the $55.00 rate.

Call direct: 843-669-4241 and choose option 4 to speak to Aida between 7 am and 5 pm. You can also call her direct at 770-401-4279.
If you do not speak to Aida, you must tell the front desk you are with Motorsport 4the Masses. If you go through central National reservations (option3) or Expedia, Travelocity, etc. you will not get our rate.

* Track time may be affected by event schedule, mechanical issues on track, or weather. Track time is not guaranteed but we will do all we can to make sure everybody gets the amount they pay for.